Decisions Decision… Week 1
For one of my final modules at university I have been asked to create a personal portfolio showcasing my work over the past few years to target a specific area within the industry.
I first had to decide what area of the creative industry I will be focusing on in this task. I decided to mainly target a role that would be about motion design and creating animations. This would mean that the employer had to see that I have good knowledge on:
Adobe Illustrator
, to create and draw the assets that I will be animating
Adobe Premiere Pro
, To finalise the video with any extra effects and editing techniques that would be needed.
(And most Importantly)
Adobe After Effects
, to animate and move the drawings
So for this module I will be focussing my efforts on showing the employers that I have the skills that would be required for a role in this industry. I have selected all of the motion design videos that I have made so far and will highlight them on the portfolio.
In the second week of the module I have decided what platforms that I will be going to present my work on. Firstly, I looked at what other people within the motion design field had done with their work and noticed that a lot of motion designers use Vimeo as a platform to display their work.

When looking into why, I discovered that Vimeo allows designers to put up their work without decreasing in quality due to compression, unlike other similar sites. I will be taking full advantage of this when placing all my work on here.

The work that I have chosen to upload to Vimeo are:

Under Armour AthleTech Campaign
For this assignment we were asked to create a new product for under armour using one of there brand ambassadors. We chose to create a T shirt that would monitor temperature heart rate and range of motion and have The Rock help us market the product. I created two different promo videos, the first one focused on the brand ambassadors, The Rock, whereas the second one showed off the product itself.

For the Motion design module I decided to create a lyric video for a small Indie band called Fuzzy Sun. For the assignment I was asked to created a short 60 second animation but after getting in contact with the band they asked me if I could create an animation for the full song.

For production project I have started to rebrand a small wine bar in Leeds city centre called Wino. For the wine bar I created a promo video to go along side the new rebrand, this will be placed on their social media to advertise their bar.

 I have achieved either a first or 2:1 in in all of these assignments.
Enhance my behance Week 3
I have uploaded all of the videos on to my Vimeo page and created a profile that looks to a professional standard. I added tags to all of the uploaded videos in a way to gain more views and have them appear onto more search results. Making it easier for an industry professional to see my work and to contact me from their.


After finishing this task I looked at other ways that I could advertise myself to potential employers. The one site that stood out to me was Behance, it is an adobe service that allows designers to self promote themselves by showcasing all of their best work. Using this I would be able to show off work that isn't just motion design work, this shows that I have a range of skills that I will be able to show off. I looked at other design professionals and how they have presented their work to a high standard.

I saw the way other designers had created a visually interesting page using a photoshop file to describe their work rather than the inbuilt text features that Behance provides. This allows me to create a full project that flows and even use the same colour scheme as the final products. I then picked out a few more projects that will be uploaded to my bechance that shows off a few more skills other than motion graphics.

In second year I did a fictional rebrand for the record label company 'Transgressive Records' were I created a new visual identity. I had to create a brand guideline that would be used by other people if they needed to create more material after my rebrand. I have decided to showcase this work as it shows my creative process very clearly, especially for the logo. Starting at sketches and working all the way through to the final design.

The next piece of work to be showcased would be the next assignment but in the same module as the previous and that was to create an album cover for a band of my choosing. I chose a band that I knew well and had listen to a lot previously to the task so I had some sort of idea of what sort of album cover would go well with them. I also made some promotional material to go along side the albums launch such as a collaboration with Krispy Kreme.

The final piece of work that will be putting up would be my children illustration book from my Short Story module in my final year. It shows that I have good illustration skills and the ability to write a story from scratch. 

I will be working on this over the next few weeks to make sure it is up to a professional standard.
During week 4 I am still in the process of collecting all of my work and uploading it to Behance. For the majority of my work I have a header with text explaining the assignment below, and the back ground and font being the same one used in the final piece. Below is a few examples of what I mean by this.


I have also started to add some of my work that is already on my Vimeo onto my Behance. I am able to do this through embedding the video through HTML code. Doing this will mean that people will be able to find my personal Vimeo through my Behance which is a good way of linking them all together. I have also started to add gif files to my videos projects to make them look more professional as well as some storyboards to show my creative process once again.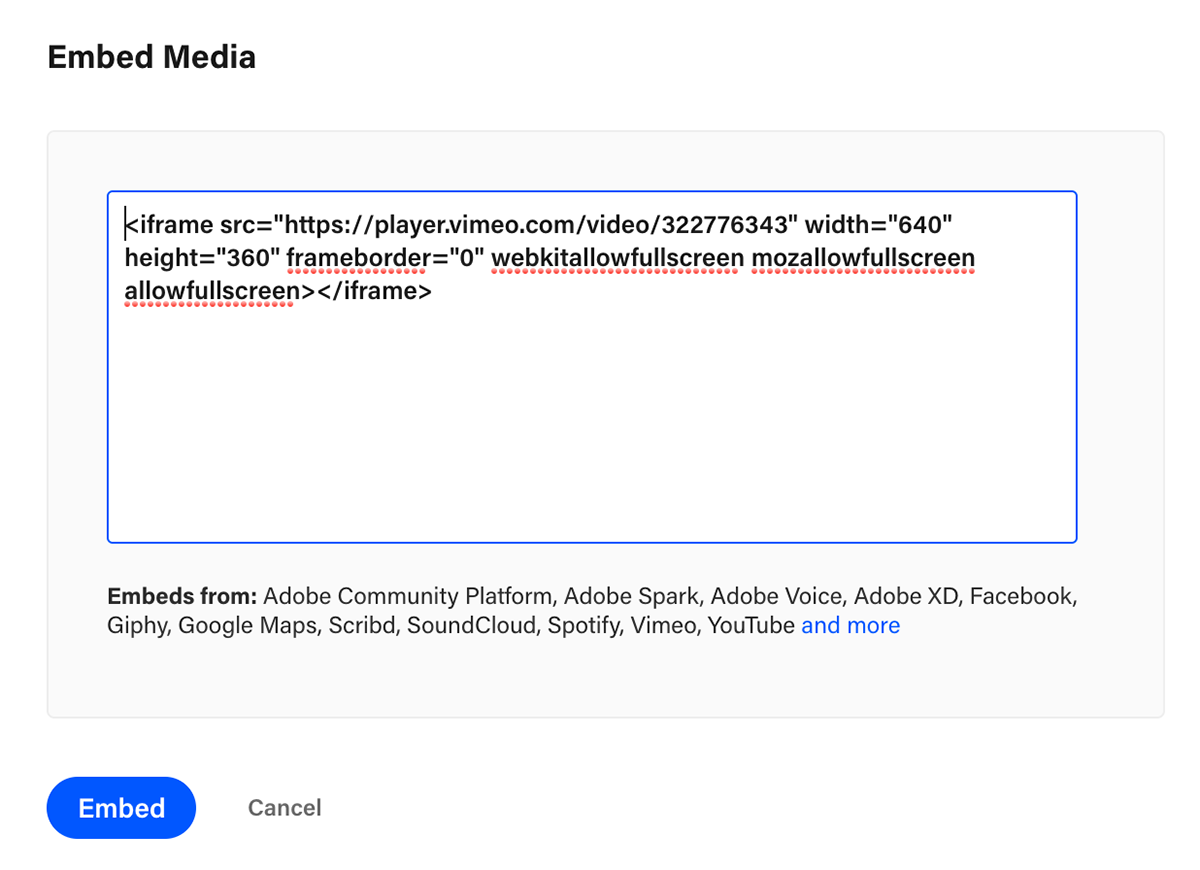 I have completed my bechance and everything that I want to show to potential employers is available for them to look at. I have made sure everything is up to a high professional standard to give off a good impression. I have also followed other agency and people working within the same field as me in an effort to try and get my name out there and for them to potentially see my work.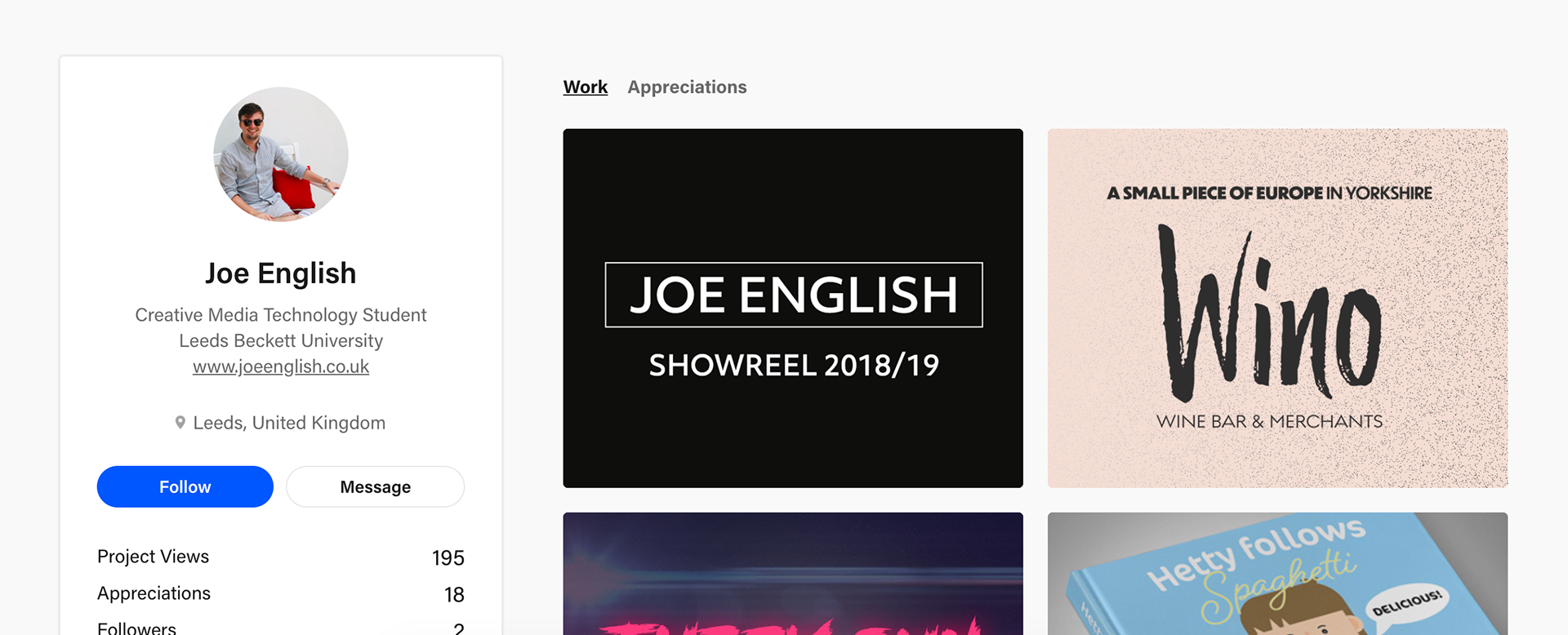 I looked at what else I could do do help get me noticed and I saw Adobe Portfolio as a tool to get me my own website. It allows you to sign in with your adobe account and all of your Behance work is automatically added to the website in a theme of your choosing. You are then able to have full customisation of the site changing margins, fonts, colours and much more! I choose to create my site with the theme of 'Matthias' allowing the user to see all of the thumbnails on the right hand side and the navigation bar on the left.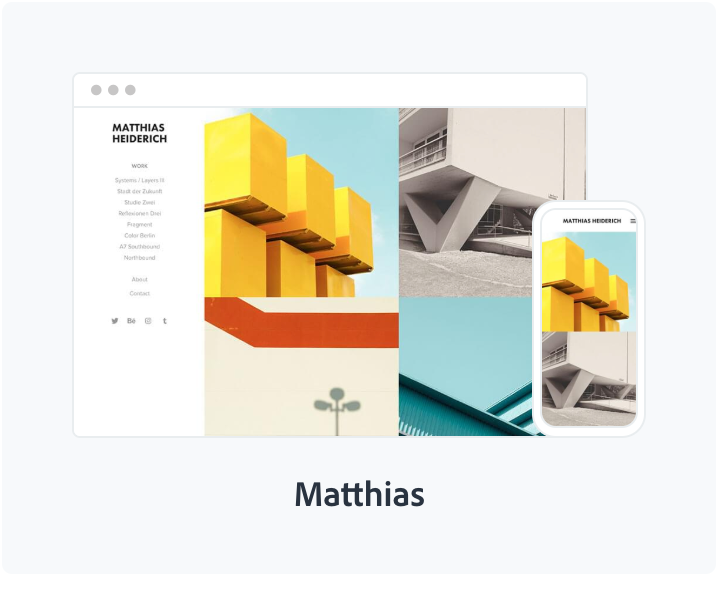 I also wanted to include a page about myself and what I do. I decided that I wanted a picture of me somewhere on the webpage. I felt like it allows employers to see what I look like and put a face to the name. I had to book out at university a studio with a blue screen and a DSLR camera to take a good quality photo on. Below is the picture before being edited on photoshop and then after.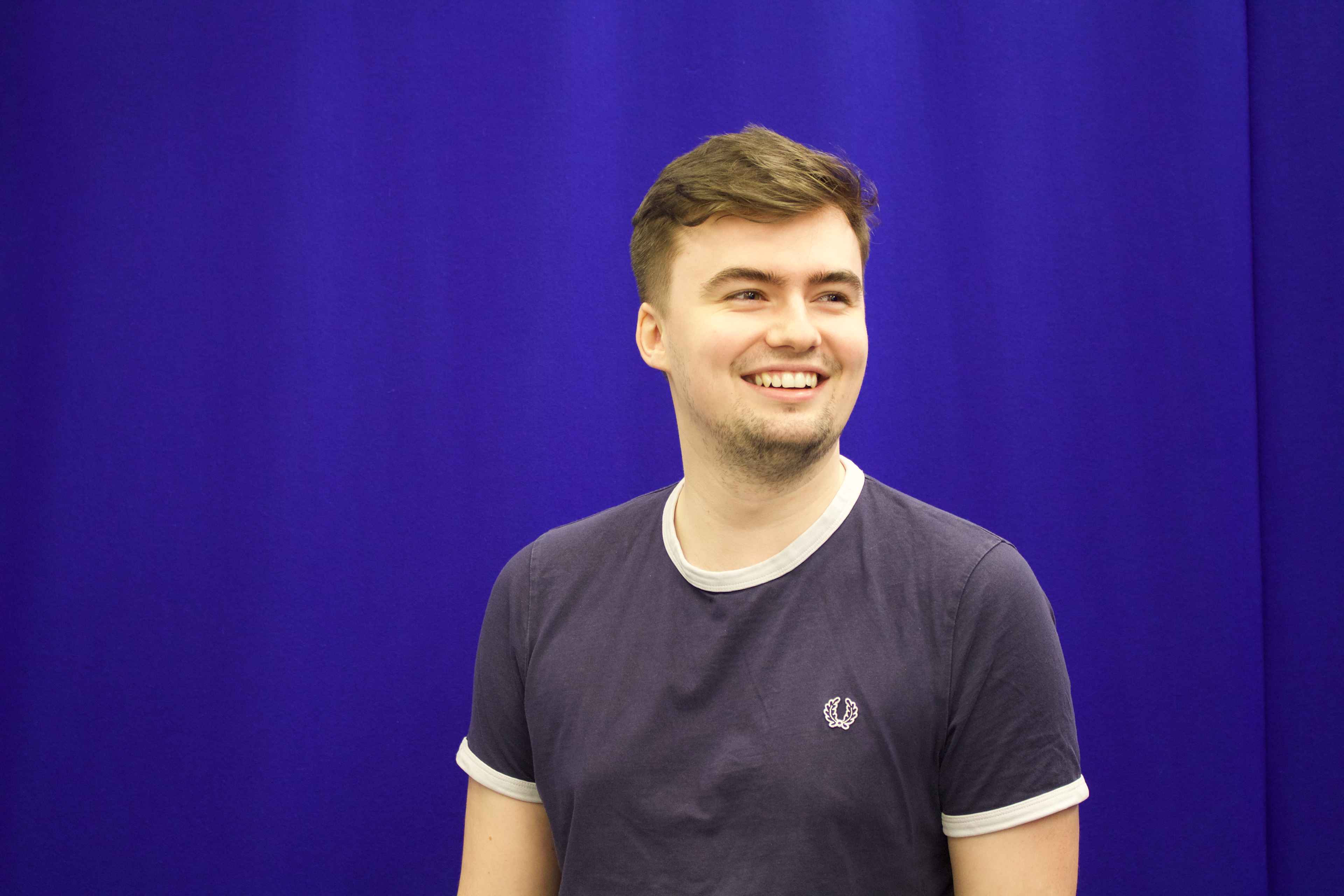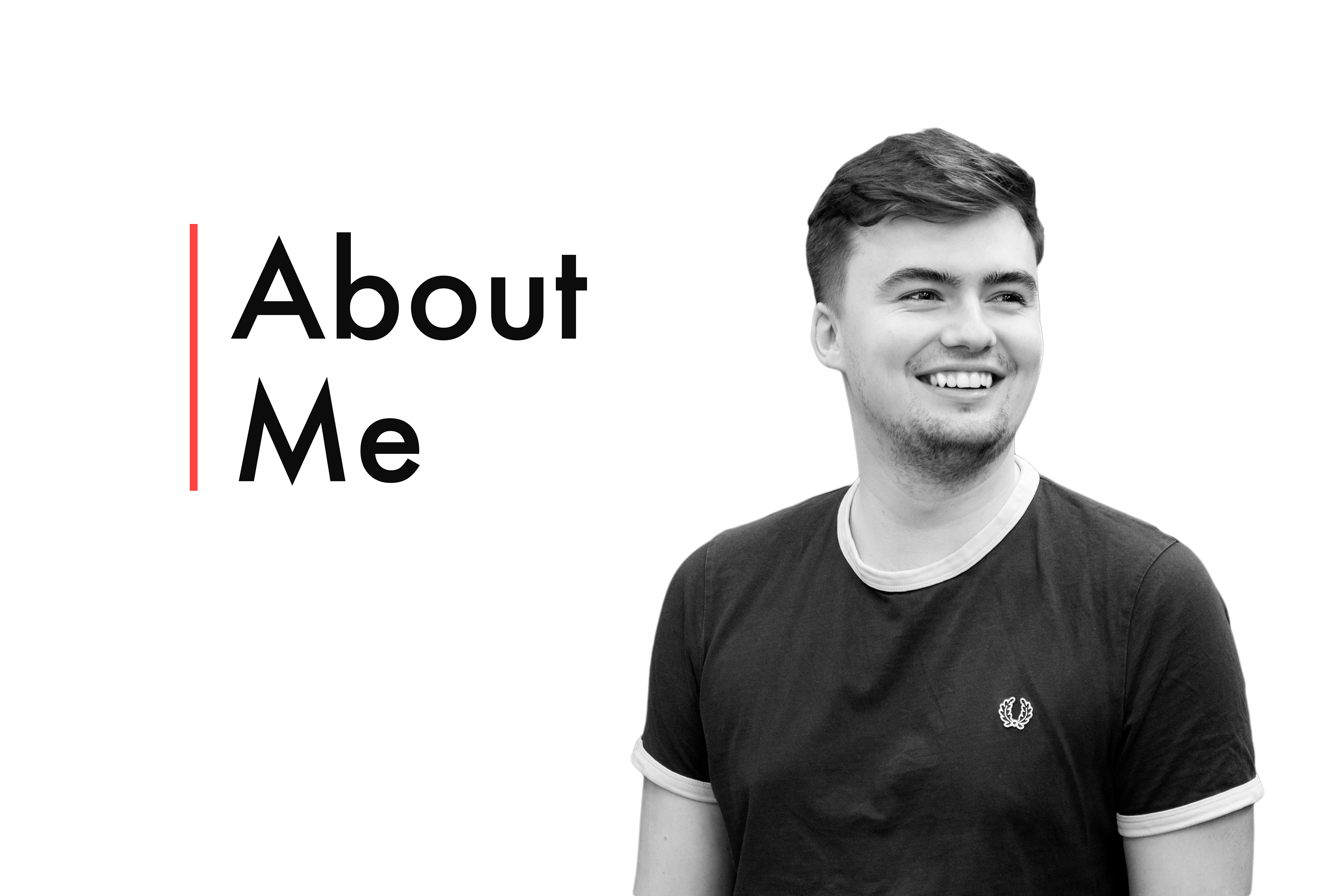 Another thing I noticed when making a website with Adobe Portfolio is that the URL that it gives you is not very professional such as: '
example.myportfolio.com
'. I wanted to have my own URL that looked good and displayed my name. I decided to look on 'GoDaddy', one of the worlds best domain name companies, for a URL. Here I found the domain '
www.joeenglish.co.uk
' and decided to purchase it for the year. This makes sure that anyone searching my name will see my website and it also looks so much more professional when sending it out.

Showreel & CV Week 6

In week 6 of the module I applied for a motion designer role at Ewe Agency as they were looking for someone to fill in the role. This is a great creative agency based just outside of Leeds that create some incredible work for some of the biggest brands in the country. I had already heard of them before so to see they had a vacant place was so good to see.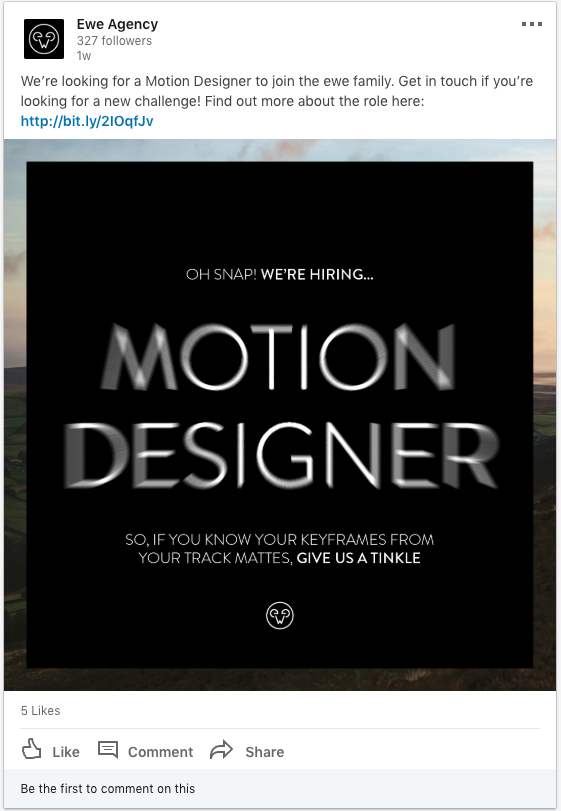 I looked at what else I could do improve my portfolio and the most important thing for a motion designer would be to include a showreel of all of my best work. I then started to research into what makes a good showreel to a potential employer and saw two important tips. The first being that it shouldn't be longer than a minute long as the employer would get bored and turn it off half way through. The second is that I should start the video with my best work to grab their attention and end the video with my second best work to leave them with a good impression. I will be taking this forward when I make the video.
I have collected a few clips of my best work and placed them onto a Premiere file. The music I have chosen is copyright free in order to insure that I follow all legalities when creating it. It is also fast past and energetic, so in the style of this I have made sure that the clips have been edited fast and to the music to make it flow much better.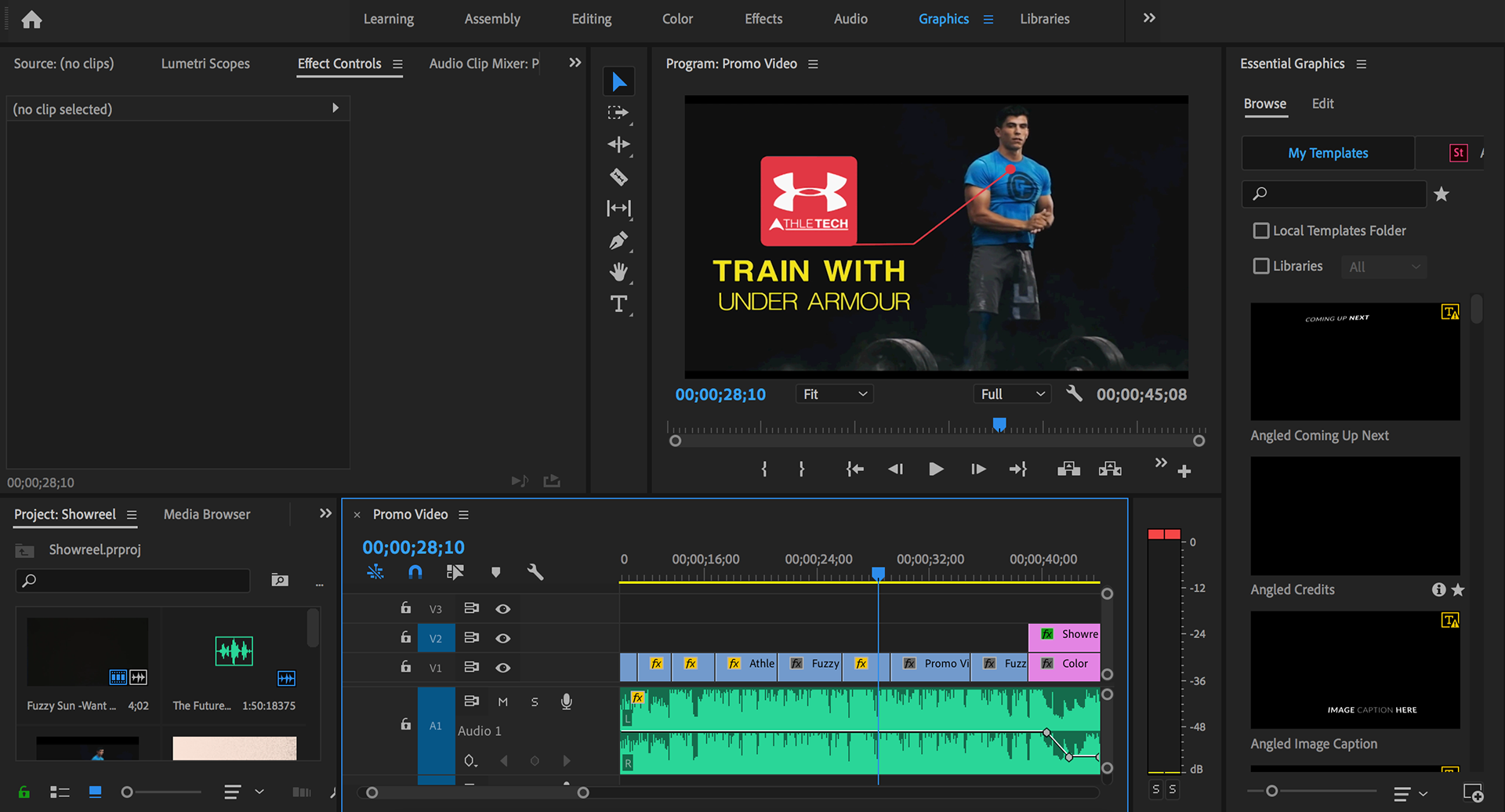 Here is the finished video showreel of my work between 2018 and 2019 that I will show to employers 
I also decided that I had to update my CV to cater for a job in this industry. This meant that I had to create a original design that would make me stand out from other people as well as highlight my skills. My original CV did not show this off as it was mainly used for getting part time work and didn't highlight any of my design skills or talk about what I have done at uni.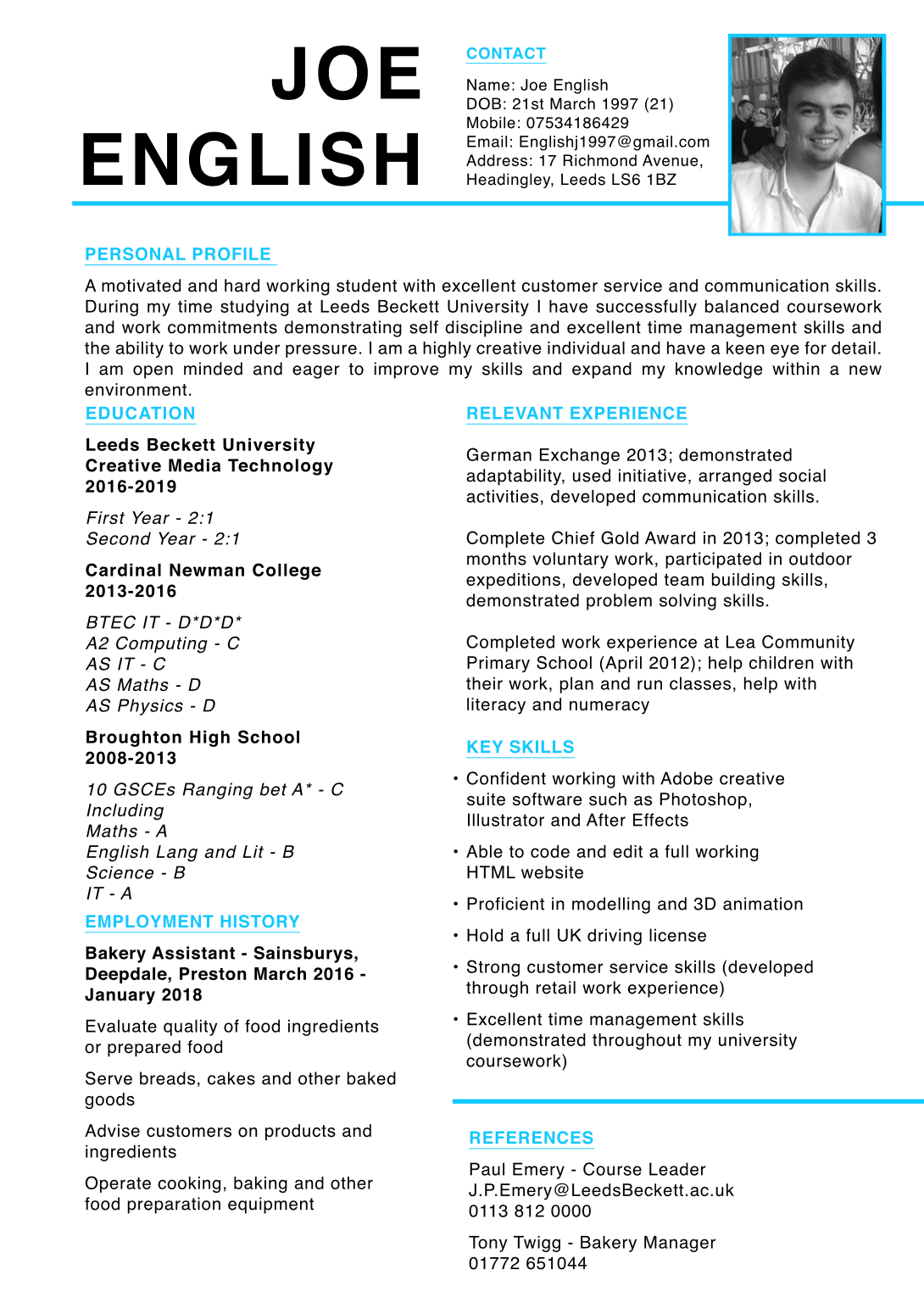 My new CV displays relevant skills to the creative industry and not generic ones. I have also updated the design to make it more visually pleasing to look at.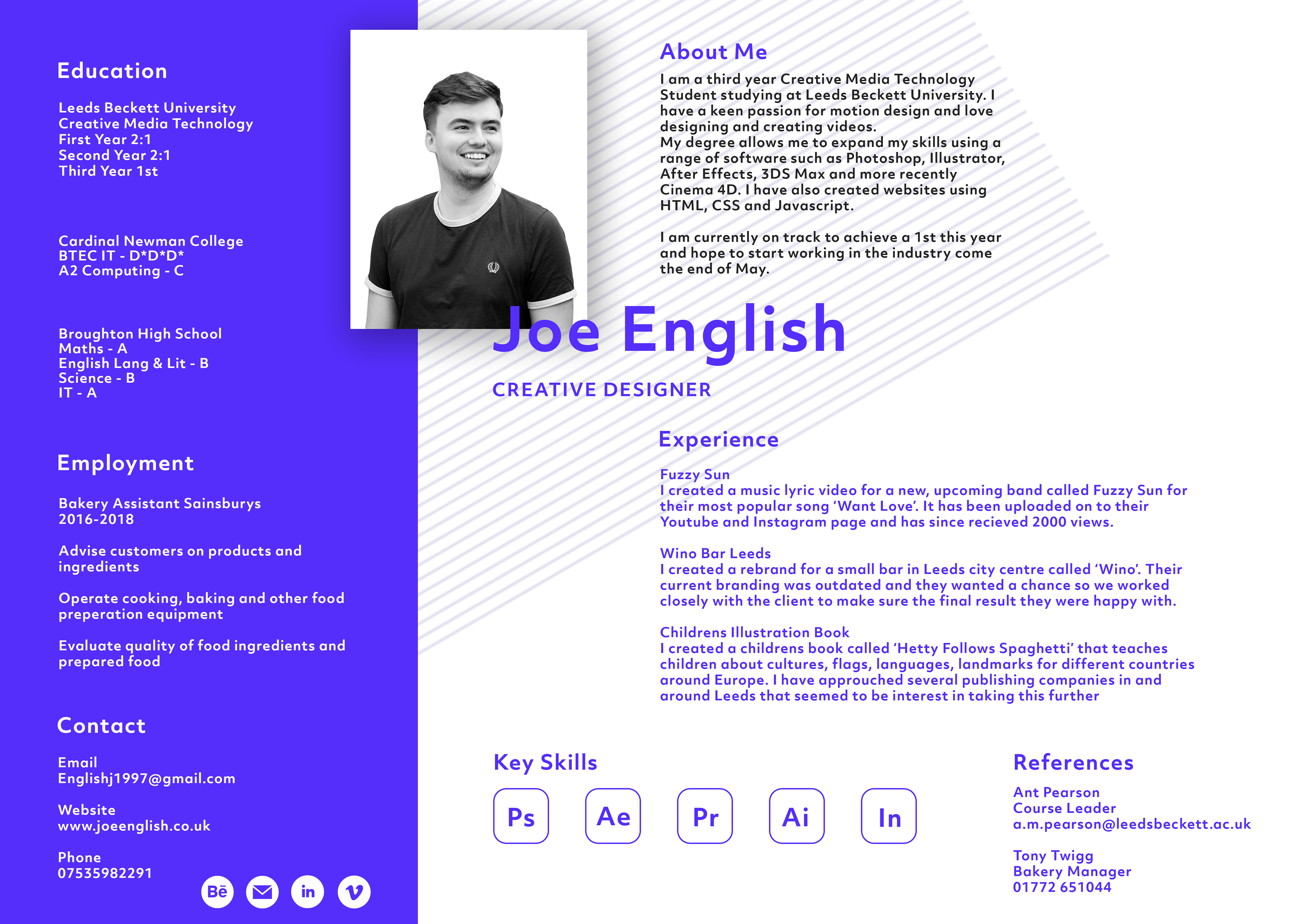 I wanted to create some extra materials to go along side all of the main portfolio assets I have created. I firstly wanted to create a business card, this would be printed off and I could give to employers at different events such as job fairs or recruitments days. Below is the finished business card that I would use, I have made it in the same style as the website to give my self a consistent self brand identity.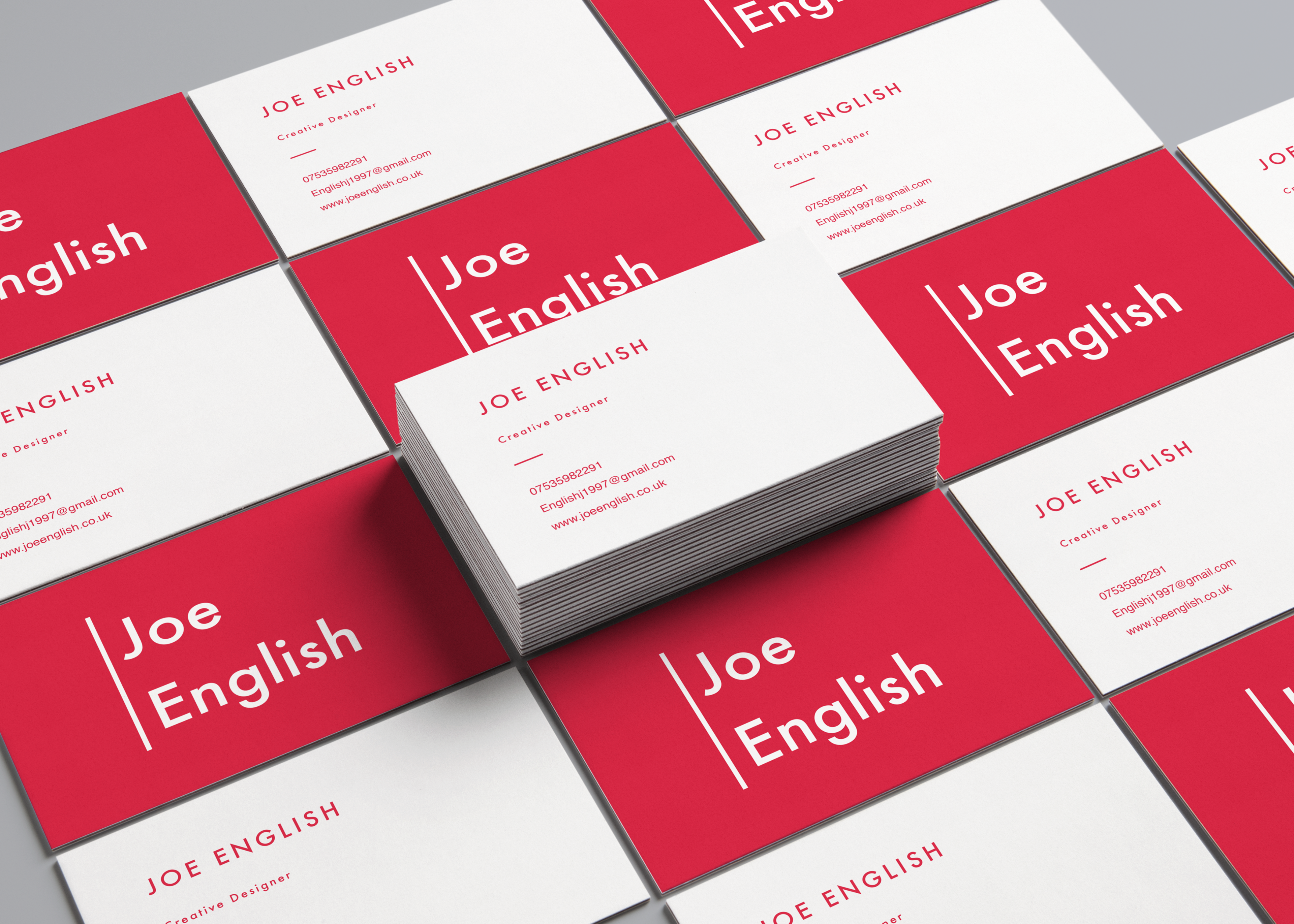 I also wanted to create a professional LinkedIn account as during my time looking at employers seemed to be a site that popped up quite frequently. Below is my LinkedIn page were I have links to my other pages so other people can see my portfolio work.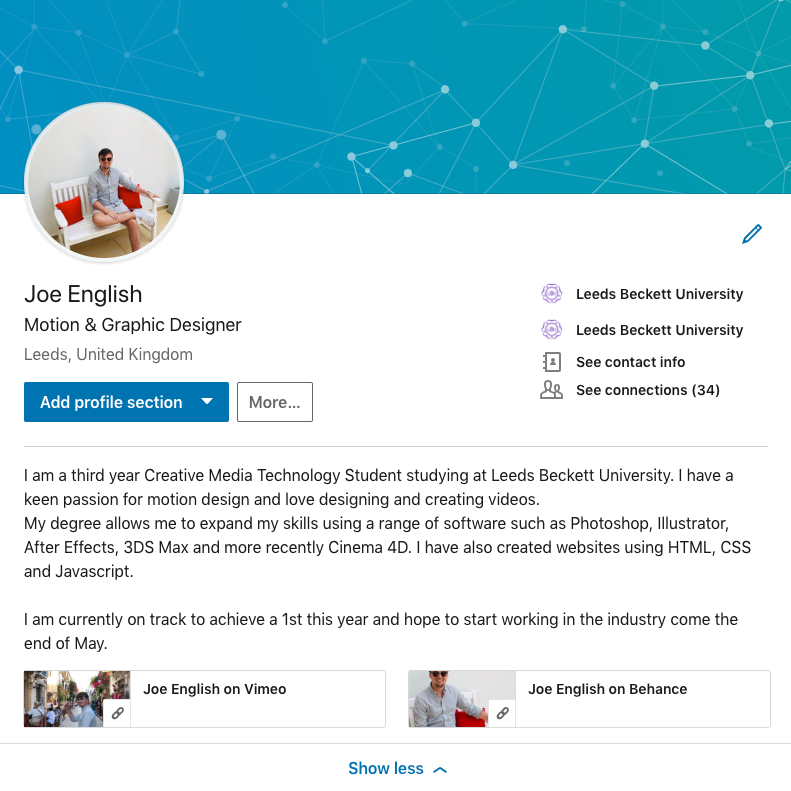 I have also followed creative industry companies on here to hopefully get them to look at my account when they get that notification. I have also applied for a few more jobs on this site as it allows you to apply using your LinkedIn account and just uploading your CV. I have applied through a creative recruitment agency called 'Craft' for a few motion design roles at different companies. I have spoke to them and they have told me they will also send me emails if more similar job roles appear anywhere for them, so I will able to be one of the firsts to apply
When I was happy I could have created everything I could have to include all my work I decided to take the time to look back at it all. The main thing that I was happy with and wanted from the start was to have all of the different portfolios linked to each other, meaning if someone finds either the Behance or website they can find the other sites easily. Here are the materials and different portfolios I have created:
Business Cards - Business cards will be handed out at events and interviews as a way of contacting me